Greetings!
Our friend, Vanesa Serrano has opened up a Mexican restaurant in Old Bisbee. This week, I am playing on Friday at Contessa's Cantina in Bisbee but her GRAND OPENING is on Saturday so come out to celebrate! We welcome this restaurant for many reasons, but the number one reason is that my dad has been friends with Vanesa and her family, especially her mom, Martha for many, many years. Dad said to me the other night, "Vamos con la Contessa?" and I have a feeling we're going to be hearing that a lot now that Contessa's Cantina is here.
Saturday, we are at Stables Ranch Grille at beautiful Tubac Golf Resort & Spa from 5pm to 8pm. Please note that our hours have changed because it gets colder earlier, but also know that the fire has been crackling and they have the heaters out for us! Last week was AMAZING because the full moon rose over the trees and it was HUGE! Of course, we all stopped and took photos...

We have had so many people leave this earthly plane over the last few months. We have grieved together and alone, almost wishing that this was just a bad dream and that soon we will wake up and everyone will be here, smiling, singing, loving. But alas, they are gone and we are here, left to celebrate their lives and our love for them.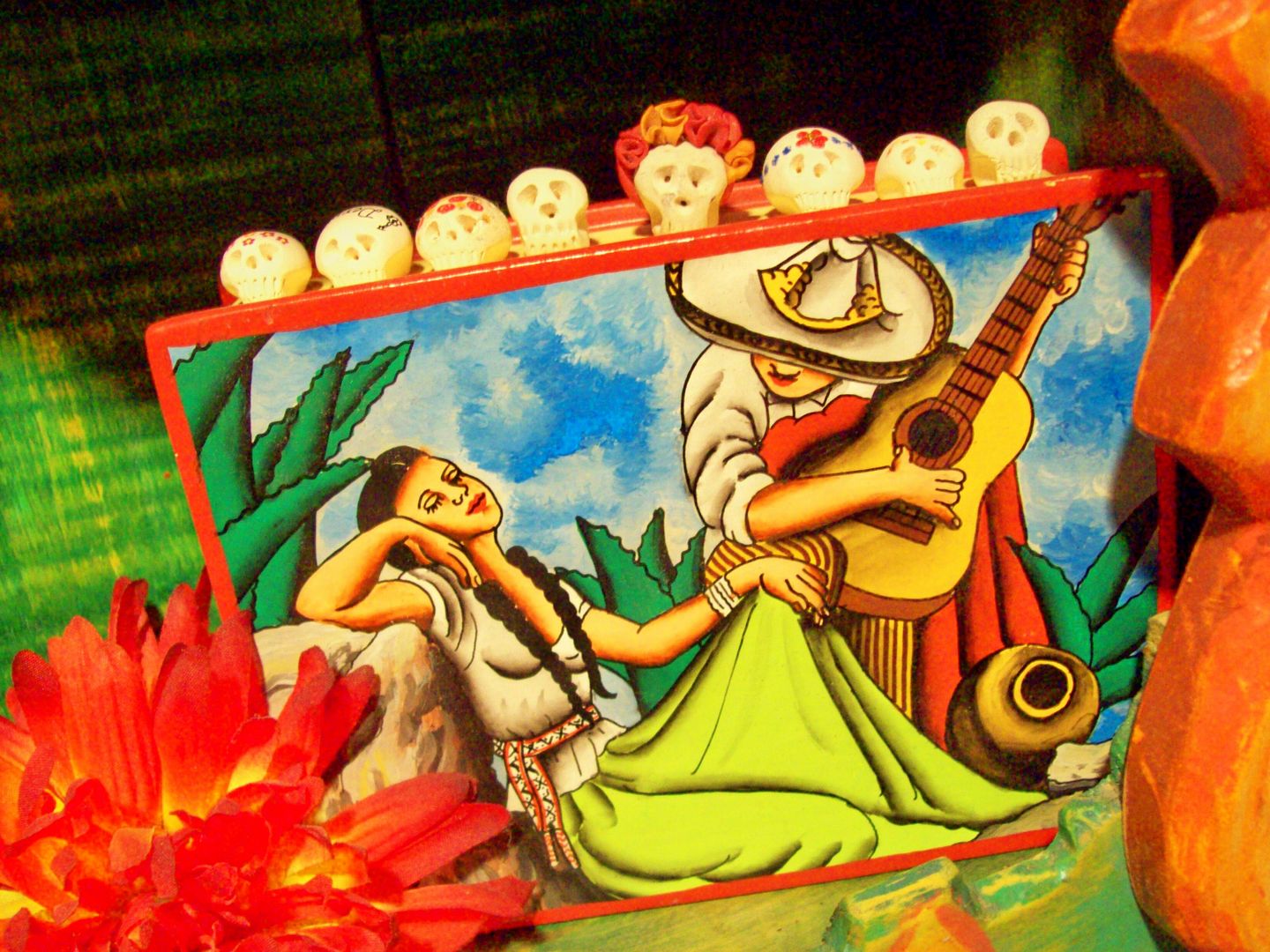 Día de los Muertos, or Day of the Dead is a tradition I celebrate every year. It is a Mexican holiday that actually happens over November 1st (All Saints Day) and November 2nd (All Souls Day), and over the years, Halloween has been added so it really spans THREE days. We like to take the time to celebrate the people who have gone on ahead by creating altars, toasting our friends, sharing meals with each other, and we make tiny little effigies representing our dearly departed. I wrote about my first Día de los Muertos celebration in this blog. I was very young and in Mexico in a boarding school, actually a cloistered convent (don't ask, I was on my way to a world of trouble when my mom decided it was the convent life for me). I have celebrated Día de los Muertos sporadically over the decades, but regularly and with vigor since moving to Bisbee in 1996. It will bring me great comfort this year to carry my little skulls with me and quietly under my breath say, "See? See, Amy, Derrick, Phil, Tom, Mom, Grandma, Tía, Frida, see? You are not forgotten! We continue to celebrate your lives! We continue to love you! We love you forever!"

My friends, Emily Roux and Gregor Wingard, also known as Tin Can Tourists are recording a CD! Some of you met them a few weeks ago at Stables Ranch Grille when they came with me (Scott was enjoying the Bisbee Blues Festival) and they were very well received. They play an eclectic mix of traditional, folk, Americana and original tunes as well. And Emily's adorable!
They started an Indiegogo Campaign to help raise funds to record their new CD, New Deal. I contributed $35. I hope you'll consider contributing to this campaign. Your contribution will spread a lot of good-will among us, the local musicians of your communities, and will help these two dear friends produce their CD, New Deal. If even just 100 of you match my contribution, they will have made enough to pay for the project and sock a little bit away for the next CD! But do it soon! They only have 4 days left on their campaign!

Cabaret de lost Muertos is fast approaching! Please note that I will NOT be in Tubac on Saturday, 11/2, as I will be performing in Tianya Milagro's production of Cabaret de los Muertos here in Bisbee. I attended last year and was so impressed that I promised myself I'd join her Cabaret de los Muertos this year. Tianya has given me time to spotlight a few songs, she may even dance to one, AND I get to sing in between a couple of acts while they are changing the set!

Much, MUCH LOVE to you today and every day! I'll see you soon! -B
Monday, October 14, 2013: I have no way to process this. Amy Ross died today. We only really knew Nowhere Man & a Whiskey Girl professionally. We didn't hang out but we knew them well enough to say hi when we saw them on the fly, and we also got to see them perform both as NM&WG and with Buzz & the Soul Senders, as well as in other incarnations. Amy also played solo and with other projects. I remember her singing and backing up Emily Roux one fine afternoon at POCO. Then she backed up Daniele Panther on Cow-Cow Boogie. Then she sang, "I'm Just a Girl Who Can't Say No" from Annie Get Your Gun and had us all giggling like schoolkids. It was thrilling!
I will miss this woman. We ultimately lost her to lupus. I can not understand this. My sorrow is so deep, not even having known her well. I can not fathom the depth of pain her family, and especially her husband, Derrick are experiencing. My heart goes out to Amy's family.
Tuesday, October 15, 2013: My grieving heart is heavy right now, but it is filled with love, compassion and understanding. Derrick Ross crossed the threshold and followed Amy. Goodbye, you two. I'll enjoy every sandwich and I'll be nice. I will always remember Nowhere Man and a Whiskey Girl. http://www.nowheremanandawhiskeygirl.com/