Wednesday, October 27, 2015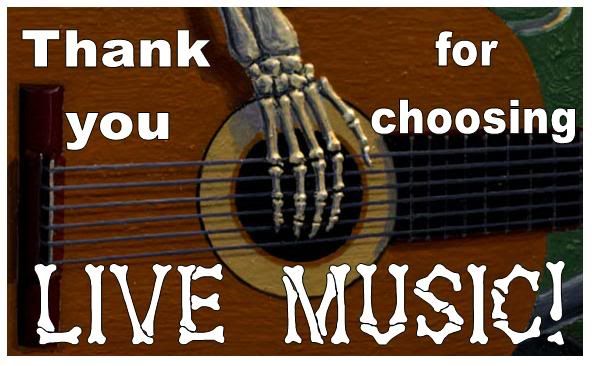 Hello!
Just a short note to let you know what's going on the rest of the week.

Tomorrow, Wednesday October 28, Scott and I will be playing at The Grill on the Green at lovely Canoa Ranch Golf Club in Green Valley.

Friday, October 30, we are playing at Turquoise Valley Golf Club in Naco, Arizona from about 4:30 to around 7ish.

Saturday we are NOT at Stables Ranch Grill. There will be a huge event so we asked for the night off and they said yes! We'll be celebrating Halloween in Bisbee this year. Who knows what kind of trouble we'll get into, but we're gonna try our best! We will be back at Stables Ranch Grill on Saturday, November 7 and I believe Brenda Pratt will be joining us that day so that we can sing some of our Sugar Beats music. Classic songs with GREAT harmonies! And the new Patio at Stables Ranch Grille is AWESOME! Comfy chairs that don't screech when you move them (remember those?), expanded patio area and a double-sided fireplace. Lounge furniture in some areas as well make for a fabulous area that is perfect for gathering with friends and watching the Santa Ritas change color as the sun goes down. Bliss. Do, however, make reservations because you'll want to guarantee your table.

Sunday, November 1, we will be in Tubac for the Day of the Dead procession. I'm not on the schedule because (ding) I forgot to confirm but Celeste Wisdom is going to try to fit us in sometime during the day. We are so happy to be doing this and we hope to see you all there!
That's it for today. I'll send another soon to let you know how our holiday season is shaping up. I know many of you are coming back soon so get in touch and let's party!

Love to you all!
~Becky


Friday, September 18, 2015
Hello!
I just wanted to send out a little blast to let you all know, especially if you're in the area and looking for something to do, that I'll be playing with Sugar Beats tomorrow, Saturday, 9/19 at 2:30pm at the Santa Cruz County Fair at the Sonoita Fairgrounds. Then we head out to play at Stables Ranch Grill at beautiful Tubac Golf Resort & Spa from 6:00pm to 9:00pm. My hope is that it will be a beautiful day and that it WON'T RAIN! C'mon, Lord, it's the Santa Cruz County Fair, AND we have a BEAUTIFUL new patio at Stables Ranch Grille!!!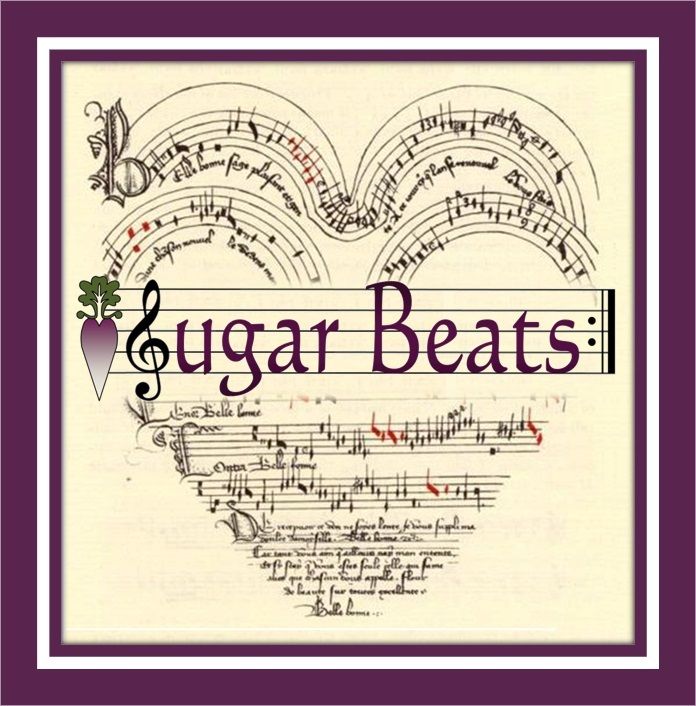 As you may, or may not know, Sugar Beats started out as a vocal quartet but over the last year, has developed into a vocal duo. Brenda Pratt and I have been busy re-working some of the songs we sang as a trio or quartet. Then began the task of looking for new songs that we could learn and present to you. Brenda, it turns out, can write! She'll bring me a song and we arrange it, work on the harmonies and sometimes Scott will join us. And get this, Scott's even singing with us. We've given him the lead on one song and he digs it! Little by little, one way or another, we're going to coax Scott's inner vocalist to emerge.

If you're in Bisbee anytime soon, I play at Ana's Seasonal Kitchen on Sundays for Brunch from 10am to Noon. Owner/Chef Ana Borrajo, from Granada, Spain buys most of her food locally and she starts with fresh ingredients. Her orange juice and lemonade are freshly squeezed, the coffee is roasted locally by Old Bisbee Roasters (my personal favorite coffee, EVER), her eggs are locally sourced and I could write another three paragraphs of her delicious menu but I wanted to make this e-mail blast short (too late, sorry).

On Tuesdays, Scott and I are at the Bisbee Grand Saloon from 6:00pm to 9:00pm. The first Tuesday of every month, Brenda Pratt joins me and we perform as Sugar Beats. Marysol's Grand Kitchen stays open late and Chef Marysol Austin cooks up Asian-style food. It's a little different than our usual gigs because it's one of our local watering holes and and the locals DO come out to party. You never know what's going to happen and we play from every genre in our book. It's a lot of fun, especially when the Latina contingent comes to dance. Well, let's just say we do our very best to oblige!

That's it for today, folks! Tomorrow is a big day and I need to get my rest (ahem), that is, after I attend the grand opening of the new Teeny Tiny Toy Store, and then take a short trip to the Bisbee Grand Saloon to see my old friend and music partner, Mike Montoya & Fatigo, and Carlos Arzate & the Kind Souls from Tucson. I won't stay out late, I won't stay out late, I won't stay out late...
Love to you all!
~Becky Reyes


Wednesday, August 5, 2015
Hello!

Well, I got my signals crossed and somehow didn't "get" that I had a gig at the Grill on the Green today (Wednesday, August 5) from 5pm to 8pm at Canoa Ranch Golf Resort! Such is the life of a busy musician. If my friend, Jane Lombardo hadn't asked, I may have missed it entirely (thank you, Jane)!
If you want to know where we are playing, just go to my calendar (here). And THANK YOU for all your support. You winterfolk, just wait until you come back! The Patio at Stables Ranch Grill is going to be PHENOMENAL! And I've learned many new songs this summer. It's been a fantastic year for learning new material.
Well, I have to go now. It's just past midnight and I've got to get my rest for Grill on the Green. I hope to see you at Canoa Ranch Golf Resort. Life is beautiful and I get to provide the soundtrack!
~Becky
2/13/2015

Hello!
Scott and I have been busier than ever since we decided to downgrade our schedule this summer. I really don't know how that happened but we're just going to go with it.

First, the big news. We walked into Tubac Golf Resort last Saturday and noticed that all the tables and chairs were in the front patio. Curious, we went out to our regular patio to see why and we were surprised, then delighted to see the patio all torn up! I ran to Stefan and asked what was going on and he said that the patio is being given a facelift. We'll have a little more elbow room, a beautiful double-sided fireplace and even some lounge-y areas. The plans look fabulous! So that means the back patio is closed for a few more weeks and we'll be playing up in front of the restaurant. I'll keep you posted on the progress. I am thrilled about this development and can't wait for season to start again. We are still there every Saturday but we'll be stylin' in August!

We have been invited to play at the Grill on the Green Restaurant at Canoa Ranch Golf Resort in Green Valley! We'll be there this Wednesday, July 15 from 5pm to 8pm. We've played there before for a private event but this will be our first time playing there for the restaurant. We hope to see you there!
For those of you planning a trip to Bisbee any time soon, I want you to know that I am playing at Ana's Seasonal Kitchen on Main Street on Sundays from 10am to noon. I play by myself, completely acoustic, though Scott sometimes will bring pop down for breakfast and maybe play a few songs with me. Ana Borrajo, the owner, is from Granada, Spain. She is an inventive and eclectic chef, taking inspiration from the foods she buys locally. She prepares every dish from scratch including her famous Chai, which is divine. Iced or hot, the delicate flavors come through in this refreshing drink. So stop by Ana's, anytime really, and share a meal with a loved one. It's pleasant way to start your day when visiting Bisbee.


On Tuesdays in Bisbee, we play at the Bisbee Grand Saloon at the Historic Bisbee Grand Hotel from 6pm to 9pm. We LOVE this gig! It's different from what we usually do as we have drummer, percussionist, artist and all-around-good-egg Howard K line join us. And on the first Tuesday of the month, Brenda Pratt, my Sugar Beat partner joins us as well. Marysol's Grand Kitchen is open on Tuesday nights and instead of serving her usual fare, Marysol makes Asian food. Delicious Mongolian beef, chicken or beef teriyaki and fantastic egg rolls. It's really a fun night, we draw a lively crowd and we have a blast playing with Howard and Brenda. And if you're coming in from out-of-town, you can stay at the Grand Hotel! Excellent accommodations!

Finally, I wanted to let everyone know that The Bisbee Royale is looking for a new owner. Sloane and Danielle Bouchever have done a marvelous job but are wanting to turn it over to a new steward. The venue is exquisite. They do different events there. Movies, both modern and classic, are featured there. They host certain entertainers and I do believe they also host private events. Please visit their site and look around. If you're a serious investor, you might want to take a look at this beautiful venue. You can also ask me what I think of the Bisbee Royale! I have had dreams of making it mine since the beginning. What I need is the bankroll! It's a fabulous place!



Well, that's it for today! Thank you all so much for coming out and spending time with us at our various venues. It means a lot!

Much love,
Becky Reyes



2/14/2015

Good morning!

This is just a short note to tell you that Scott and I will be at Stables Ranch Grille (make reservations and say you'd like to be near the music) tonight singing our usual fare, plus some newer songs but I've also invited Sugar Beats to join us! Kathy, Brenda and I have been working on some wonderful music from the Wailin' Jennys, The Everly Brothers and more.

Those of you who know me know that I love to sing harmony but don't often get the chance. With Sugar Beats, we each take turns singing lead and we love to choose songs that are in the public psyche, but maybe haven't been heard for a while. And I LOVE working with Kathy and Brenda. We'll study a song first, deconstruct it to get the harmonies right and then play it several times to really get to know the song. Then, sometimes, we'll hear something else and suggest subtle changes. I've said this before, but it's a little like three sculptors working on one piece with beautiful results. And what's REALLY fun is that we're getting to a point where we don't even have to finish sentences to each other. We've had several conversations that have consisted of half-statements and a bunch of nods, eye contact and genial non-verbal utterances. To an outsider, it may seem silly listening to us building these songs but to us, every eye-look or head-nod speaks volumes. I just love working with these women!

And what a great way to celebrate Valentine's Day. I'm singing my favorite songs on my perch at Stables Ranch Grille at beautiful Tubac Golf Resort & Spa with the best staff in the world, delicious food, great spirits, lovely company, my beautiful song-mates and my favorite guy.


As always, THANK YOU FOR CHOOSING LIVE MUSIC!

Much love to you today, and really, every day...
~Becky


Hello!

I wish I had more time to sit and write a proper newsletter but we've been busy!


This Saturday, 2/07, we are of course at Stables Ranch Grille at beautiful Tubac Golf Resort & Spa from 5pm to 8pm and we are so happy to be back. Last week's weather was so miserably cold and made the roads treacherous so we opted to stay home. It was nice to have an afternoon off but man, all week I kept feeling that I'd left the iron on. Funny how that happens.

In addition to our regular Stables gig on Saturday, we are playing a special gig at The Unitarian Universalist Auditorium at Amado Territory Ranch (I-19, exit 48) at 2pm for their series of concerts, Sounds of the Desert. What distinguishes this from the rest of the venues I play is that I will be playing mostly original compositions. We are honored to have been asked to participate in this series of concerts. We have so many friends who are associated with the Unitarian Universalist Church in Amado! We'd like to invite everyone to come out and join us for this concert. I don't often do my original music as I often feel so exposed, so raw, but every so often, the venue is right, the time is right, and I realize I can't hold my light under a basket forever. So I'm going to be brave and play those songs for you. Oh, and The Pueblo HS Mariachi Band will be following us. Now THAT is true regional music. So come out and join us on Saturday afternoon at the Unitarian Universalist Church at Amado Territory Ranch. And then come have dinner with us at Stables!

SUGAR BEATS AND VALENTINES DAY NEWS! I got the go-ahead from Stefan to bring Kathy and Brenda with me to Stables Ranch Grille for a sweetheart of a show! Sugar Beats have been working up some wonderful songs about LOVE! Some of them incredibly romantic, others about heartache, heartbreak and sometimes just plain silliness. FAIR WARNING: Valentines Day is next Saturday so you have a week to find something special for your valentine and time enough to make reservations for Saturday night!

Much love to you all! I can't wait to see you. The weather is GORGEOUS and should remain so for a while. Come out and play!!!

~Becky